Features Overview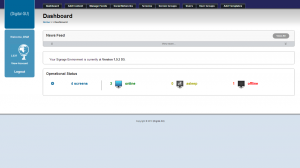 Take a look at some of the features that set our digital signage system apart from the rest. Our features include a large range of content you can upload, a simple managed signage player that we do all the work on, Social network integration with Facebook, Twitter and LinkedIn, grouped management of Users and Groups all through a simple easy to use Web Interface. Topped off with the fact its hosted in the cloud by us with no onsite servers required by the client!
Multiple Media Content Types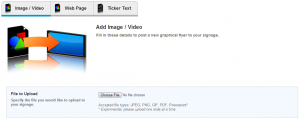 Our signage system supports RSS (Rich Site Summary), Image (PNG, JPEG, PDF, GIF, PDF), Video, Webpage, Powerpoint & Text content meaning that whatever your media type you can submit it and display it using our signage software all from just your web browser.
Mobile Notifications
Our software has inbuilt automated monitoring of all signage players, with e-mail alerts in the event of a screen going offline, which can be linked to mobile devices via push notification. This enables a fast response in the event of a hardware failure, loss of power or connectivity outage.
Managed Signage Player
The signage player is managed and built by us, meaning that you do not need to be a wizard with software or hardware. We are able to remotely support the players for you, updating it and managing it for you. It really is as simple as that!
Social Network Integration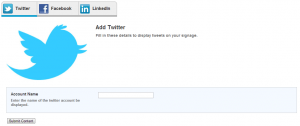 Our signage software integrates with Facebook, Twitter and LinkedIn giving you the edge in Social Media Integration on your signage screens.
It is as simple as entering the URL to your social media account, and with twitter by adding your username.
Hosted In The Cloud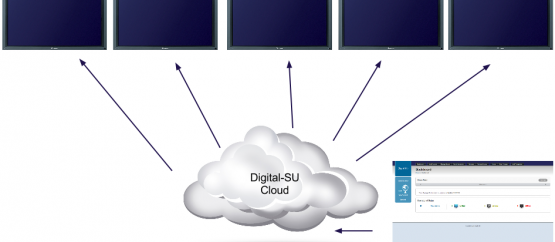 Our signage system is fully hosted, removing the requirement for servers to be installed either on site or at the client's head office. This makes our system low maintenance, with no technical expertise required for day to day management.
Group Management

You can simple manage your users by putting them in groups, such as having your staff from Marketing in one group with Administrator access allowing them to approve content before its posted, with the Store Managers been able to post content allowing for moderation by the Marketing team.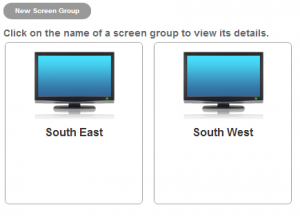 With the screen groups feature you are able to make changes to groups of screens using the feature, this allows you to control different screens by their location or brand for example.
Web Management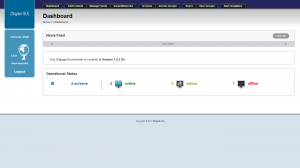 You can easily manage all of the features through a simple to use control panel accessible using any up to date Web Browser, on any machine!
It is simple to do all of the actions on the control panel with no additional software to install on your machine perfect for on the move changes.
Brandable Control Panel
For resellers we are able to brand the control panel so that their brand appears on the control panel. Along with this we can provide the control panel on a white branded domain name to ensure that our name does not appear. If you wish to use your own domain name this is also possible!